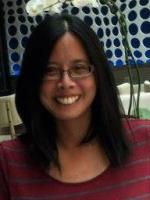 Specialization
:
Assistant Professor, Department of Film & Media Studies
Bio
:
Alenda Y. Chang (Ph.D., UC Berkeley) is an assistant professor in the Department of Film & Media Studies at UC Santa Barbara. With a multidisciplinary background in biology, literature, and film, she specializes in the study of environmental aspects of media and technologies, particularly the interactive worlds of computer and video games. Her writing has appeared in Electronic Book Review, Ant Spider Bee, Interdisciplinary Studies in Literature and Environment, and Qui Parle, and new essays are forthcoming in Sustainable Media (Routledge) and Alternative Histories of the Digital Humanities (Punctum). Before joining the UCSB faculty in 2015, Chang was a professor of digital humanities and environmental literature at the University of Connecticut (2013-2015).
Research
:
media and the environment; game studies; science and technology studies; documentary
Projects
:
AirQuest (https://socialapplab.wordpress.com/airquest/) is a civic-action game designed to motivate young people ages 12-24 to learn more about air-quality issues in their local communities and about triggers and risk factors for asthma. Unlike most games, AirQuest represents a specific geographic and sociocultural reality, highlighting the irony that although California's Central Valley is one of the most productive agricultural regions in the nation, it faces high unemployment and poverty levels and severe air-quality problems arising from the valley's unique topography and weather. In addition to its regional specificity, AirQuest's primary innovation lies in making scientific models and data—from regional wind patterns to Environmental Protection Agency (EPA) sensor readings—accessible and playable to non-specialists.
Publications
:
Chang, Alenda. "Games as Environmental Texts." Qui Parle 19.2 (Spring/Summer 2011), University of Nebraska Press.
Chang, Alenda. "Back to the Virtual Farm: Gleaning the Agriculture-Management Game." Interdisciplinary Studies in Literature and Environment 19.2 (Spring 2012), Oxford University Press.
Chang, Alenda. "Environmental Remediation." electronic book review | critical ecologies. 7 June 2015.