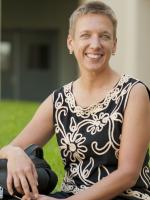 Specialization
:
Professor, Department of Computer Science
Bio
:
Chandra Krintz is a professor of computer science at UC Santa Barbara, where she conducts research to advanced the state-of-the-art in programming systems in ways that improve performance and energy consumption, and that facilitate software development and deployment. Her recent work has targeted distributed and multi-language runtime systems and cloud platforms. She has advised more than 60 undergraduate and graduate students and has published numerous research articles about the implementation of programming languages in venues that include ASPLOS, ECOOP, HotCloud, IEEE Cloud, PLDI, OOPSLA and others. She also participates in efforts to broaden participation in computing, and is the progenitor of the AppScale project. Chandra's accomplishments have been recognized with an NSF CAREER award, the CRA-W Anita Borg Early Career Award (BECA), the UC Santa Barbara Academic Senate Distinguished Teaching Award, and selection as a Cloud Computing Pioneer by Information Week. She joined the UC Santa Barbara faculty in 2001 after earning her M.S. and Ph.D. degrees in Computer Science at UC San Diego. 
Research
:
Cloud computing; web/cloud services; programming systems; sensor systems; lifestyle monitoring; data analytics
Publications
:
Horuk, C., Douglas, G., Gupta, A., Krintz, C. Bales, B., Bellesia, G., Drawert, B., Wolski, R., Petzold, L. and Hellander, A. (2014). Automatic and Portable Cloud Deployment for Scientific Simulations.IEEE/ACM International Conference on High Performance Computing and Simulation (PDF). 
Krintz, C. (2013). The AppScale Cloud Platform: Enabling Portable, Scalable Web Application Deployment, IEEE Internet Computing, 17(2), 72-75 (PDF). 
Krintz, C. and Wolski, R.(2013). Unified API Governance in the New API Economy. Cutter IT Journal, 26(9), 12-16 (PDF).