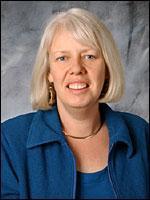 Psychological & Brain Sciences
Specialization
:
Professor, Department of Psychological & Brain Sciences; Associate Director, Center for Spatial Studies
Bio
:
Mary Hegarty is a professor in UC Santa Barbara's Department of Psychological & Brain Sciences. The author of more than 100 articles and chapters on spatial cognition, diagrammatic reasoning, and individual differences, she is a fellow of the American Psychological Society, a former Spencer Postdoctoral Fellow, and the former chair of the governing board of the Cognitive Science Society. She is Associate Editor of the Journal of Experimental Psychology: Applied and Associate Editor of TopiCS in Cognitive Science. She is also on the editorial board of the journals Learning and Individual Differences and Spatial Cognition and Computation. Her current research is funded by the National Science Foundation.  Prior to UC Santa Barbara, she earned her BA and MA from University College Dublin, then worked as a research assistant for three years at the Irish National Educational Research Centre, and then earned her Ph.D. in Psychology at Carnegie Mellon University in 1988. 
Research
:
individual differences in spatial abilities; comprehension of graphs, diagrams and maps; education in spatial thinking in STEM disciplines; comprehension of visualizations of uncertainty; understanding individual differences in spatial navigation and the sense of direction; learning
Publications
:
Hegarty, M. (2011). The cognitive science of visual-spatial displays; Implications for design. Topics in Cognitive Science, 3, 446-474.
Wolbers, T., & Hegarty, M. (2010). What determines our navigational abilities? Trends in Cognitive Sciences, 14, 138-146.
Hegarty, M. & Waller, D. (2005). Individual differences in spatial abilities. In P. Shah & A. Miyake (Eds.). The Cambridge Handbook of Visuospatial Thinking. Cambridge University Press (pp. 121 – 169).