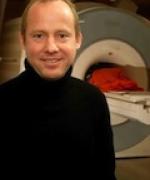 Specialization
:
Professor, Department of Comunication; Lead Researcher, Media Neuroscience Lab
Bio
:
René Weber's research program focuses on mass communication and new media technology phenomena as a product and determinant of complex cognitions. For example, his team is interested in questions like: What are the functions and effects of morality in mediated narratives? How is morality in mediated narratives related to cortical synchronization, trust, and collaboration among groups? What are the implications of coordinated media exposure on cognitions and group behavior? What are the differences between a virtual/simulated experience, a mediated/non-simulated experience, and a non-simulated/non-mediated experience? How does the human brain process flow experiences as a consequence of media exposure?
His research group develops and applies both traditional social scientific and neuroscientific methodology (e.g. functional Magnetic Resonance Imaging - fMRI) in order to study media effects on humans. René is Chair of the International Communication Association's Mass Communication Division and Director of UC Santa Barbara's Media Neuroscience Lab.
Research
:
media neuroscience, research methods and statistics