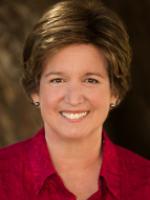 Media research and design
Specialization
:
Director, Center for Digital Games Research; Media Researcher, Institute for Social, Behavioral, and Economic Research
Bio
:
Debra Lieberman, Ph.D., is a media researcher at UC Santa Barbara's Institute for Social, Behavioral, and Economic Research, where she directs the Center for Digital Games Research. Her research interests focus on processes of learning and behavior change with interactive media and games, with a special interest in the research and design of digital games for health. From 2007-2013 she directed Health Games Research, a national program at UC Santa Barbara funded by the Robert Wood Johnson Foundation to advance the research, design, and effectiveness of health games and to provide scientific leadership to help build the field.
Before joining UC Santa Barbara, Debra was vice president of research at Click Health, Inc., where she designed Nintendo-console health video games that drew upon evidence-based principles of interactive media learning and health behavior change. Clinical trials with patients from organizations including Stanford Medical Center and Kaiser Permanente found that the games significantly improved players' health outcomes and clinical utilization by improving their prevention and self-care behaviors for asthma self-management, diabetes self-management, smoking prevention, and other health conditions. Prior to working at Click Health and at other companies that developed health media and home-to-clinic telehealth systems, she was a faculty member in the Department of Telecommunications at Indiana University, Bloomington.
Throughout her career, Debra has served as a media research and design consultant for clients including Apple, Broderbund, Centers for Disease Control and Prevention (CDC), Disney, HopeLab, Knowledge Adventure, The Learning Company, National Institute on Drug Abuse (NIDA), Philips Healthcare, Pixar, U.S. Office of Disease Prevention and Health Promotion (ODPHP), U.S. Office of Science and Technology Policy (OSTP), WebTV, WestEd, WGBH, Zowie Intertainment, and others.
Debra holds a Ph.D. in Communication Research from Stanford University and an Ed.M. with a specialty in Media and Learning from the Harvard Graduate School of Education, where she worked with the researchers and producers of Sesame Street.
Research
:
Processes of engagement, motivation, learning, and behavior change with digital media and games
Publications
:
Lieberman, D.A. (2015). Using digital games to promote health behavior change. Chapter in S.S. Sundar (Ed.), The handbook of the psychology of communication technology. Malden, MA: Wiley Blackwell.
Lieberman, D.A. (2013). Designing digital games, social networks, and mobile technologies to motivate and support health behavior change. Chapter in R.E. Rice & C.K. Atkin (Eds.), Public communication campaigns (4th Edition). Thousand Oaks, CA: Sage Publications, pp. 273-287.
Lieberman, D.A., Chamberlin, B., Medina, E. Jr., Franklin, B.A., McHugh Sanner, B.M., & Vafiadis, D.K. (2011). The Power of Play: Innovations in Getting Active Summit 2011: A science panel proceedings report from the American Heart Association. Circulation, 123(21), 2507-2516.