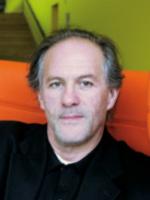 Media Arts and Technology
Specialization
:
Professor, Department of Art Studio; Professor and Chair, Media Arts and Technology Graduate Program
Bio
:
George Legrady holds a joint appointment as Professor in the Department of Art Sudio and in the Media Arts and Technology Graduate Program, which he chairs. His research and production work in interactive media installation brings together his specialized interests in collaborative narrative development through audience interaction and in data management through semantic categorization using neural-net based self-organizing map algorithms. 
George Legrady Studio and the Experimental Visualization Lab at UC Santa Barbara focus on arts-based research and experimental projects in the areas of data visualization, computational photography, and interactive installation. Emphasis is on aesthetic research through algorithmic processes, semantic categorization and the implementation of complex technologies for new forms of content, narratives, experiences, and analysis.
Recent installations include "On the Road" (2013) at the Pari Nadimi Gallery in Toronto; "Swarm Vision" (2012-2013) at several sites including Siggraph and the Run Run Shaw Centre in Hong Kong; "Voice of Sisyphus" (2011) at the Edward Cella Gallery in Los Angeles and in other venues; "Retelling" (2009) at Shanghai eArts; "We Are Stardust" (2008) at Art Center College of Design and NASA; "Cell Tango" (2006-2008) at SOMarts in San Francisco and 10 other sites in the U.S., Canada, and France; "Kinetic Flow" (2006) at the Los Angeles MetroRail; and "Making Visible the Invisible" (2005) at the Seattle Public Library.
Earlier installations include "Pockets Full of Memories" (2001) at Centre Pompidou, Paris; "Transitional Spaces" (1999-2000) at Siemens World Headquarters, Munich; "Tracing" (1998) at the Museum of Contemporary Art, Los Angeles and (1997-1998) at the Kunst und AustellungHalle der Bundes Republik, Bonn; a solo retrospective (1997-1998) at the National Gallery of Canada and the Canadian Museum of Contemporary Photography, Ottawa; and "Slippery Traces" (1997) at the Palais des Beaux-Arts, Brussels.
Awards include a National Endowment of the Arts Visual Fellowship, two Canada Council Computer Media Awards in 1994 and 1997, and Honorable Mentions at Ars Electronica, Linz in 1989 and 1994. His CD-ROM publication "An Anecdoted Archive from the Cold War" received the "New Voices, New Visions" prize from Voyager and Interval Research Corporation. George held prior academic appointments at the Merz Akademie, Stuttgart, San Francisco State University, UCLA, University of Southern California, California Institute of the Arts, and the University of Western Ontario.
Research
:
interactive art installation; collaborative narrative development; data visualization through semantic categorization and self-organizing algorithms